29 Jun 2023
Introducing Matters.Cloud for Microsoft Outlook: Enhancing Efficiency and Streamlining Workflow for Lawyers and Law Firms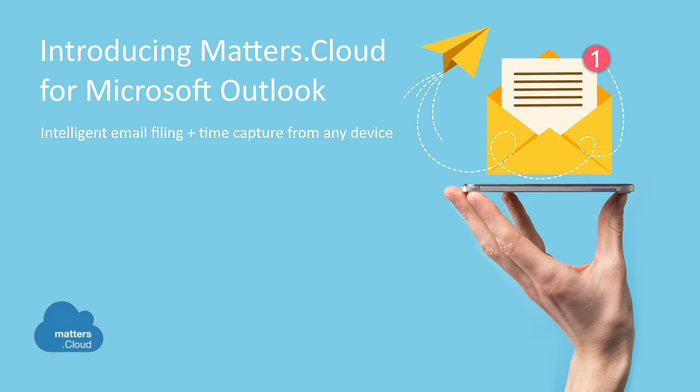 London, 13th June 2023 - Matters.Cloud, a leading provider of innovative legal practice management solutions, is thrilled to announce the launch of Matters.Cloud for Microsoft Outlook, a powerful application designed to revolutionise the way legal professionals manage their email communications. The application enables lawyers and law firms to seamlessly save emails within Outlook to relevant legal matters, resulting in significant time savings and a reduced administrative burden.
Email management has long been a challenge for legal professionals, with the need to organize and store crucial correspondence related to specific matters. Matters.Cloud for Microsoft Outlook offers a game-changing solution by providing a simple and efficient way to save emails directly to the corresponding legal matters. This integration empowers lawyers to maintain a well-organised and centralised system, ensuring vital information is readily accessible and reducing the risk of misplacing or overlooking important communications.
One of the key advantages of Matters.Cloud for Microsoft Outlook is its ability to create time records as part of saving emails. By automatically capturing time spent on email-related activities, legal professionals can accurately track their billable hours, ensuring that no time is overlooked or lost due to inefficient timekeeping practices. This feature significantly reduces time leakage and helps maximise revenue for law firms.
The application seamlessly integrates with various versions of Microsoft Outlook, including Outlook Desktop, Outlook on the Web, and Outlook Mobile, providing a consistent user experience across different platforms. This versatility allows legal professionals to access and manage their emails and related matters effortlessly, whether they are working from their office, remotely, or on the go.
Moreover, Matters.Cloud for Microsoft Outlook offers flexibility in terms of storing emails. Legal professionals can save their emails directly to leading document management systems including NetDocuments, OneDrive, Google Drive, or Dropbox, ensuring that their important communications are securely stored in their preferred platform. This integration not only enhances data security but also streamlines the workflow by eliminating the need for manual data transfers and duplicate file storage.
"We are thrilled to introduce Matters.Cloud for Microsoft Outlook to the legal community," said Fraser Mayfield, Founder and CEO of Matters.Cloud. "Our goal is to provide lawyers and law firms with powerful tools that streamline their workflow and optimise their productivity. With this integration, legal professionals can now save time, reduce administration, and ensure that all billable hours are accurately captured, ultimately leading to improved efficiency and profitability."
Matters.Cloud for Microsoft Outlook is backed by a robust and user-friendly interface, enabling seamless integration into existing workflows without the need for extensive training or technical expertise. The application's intuitive design ensures that legal professionals can quickly adapt and start benefiting from its features right away.
To learn more about Matters.Cloud for Microsoft Outlook and how it can transform your legal practice, visit our website at www.matters.cloud/app-marketplace/outlook or contact our sales team at info@matters.cloud.