10 Mar 2021
Career Conversations - Tom Scarborough, Movewise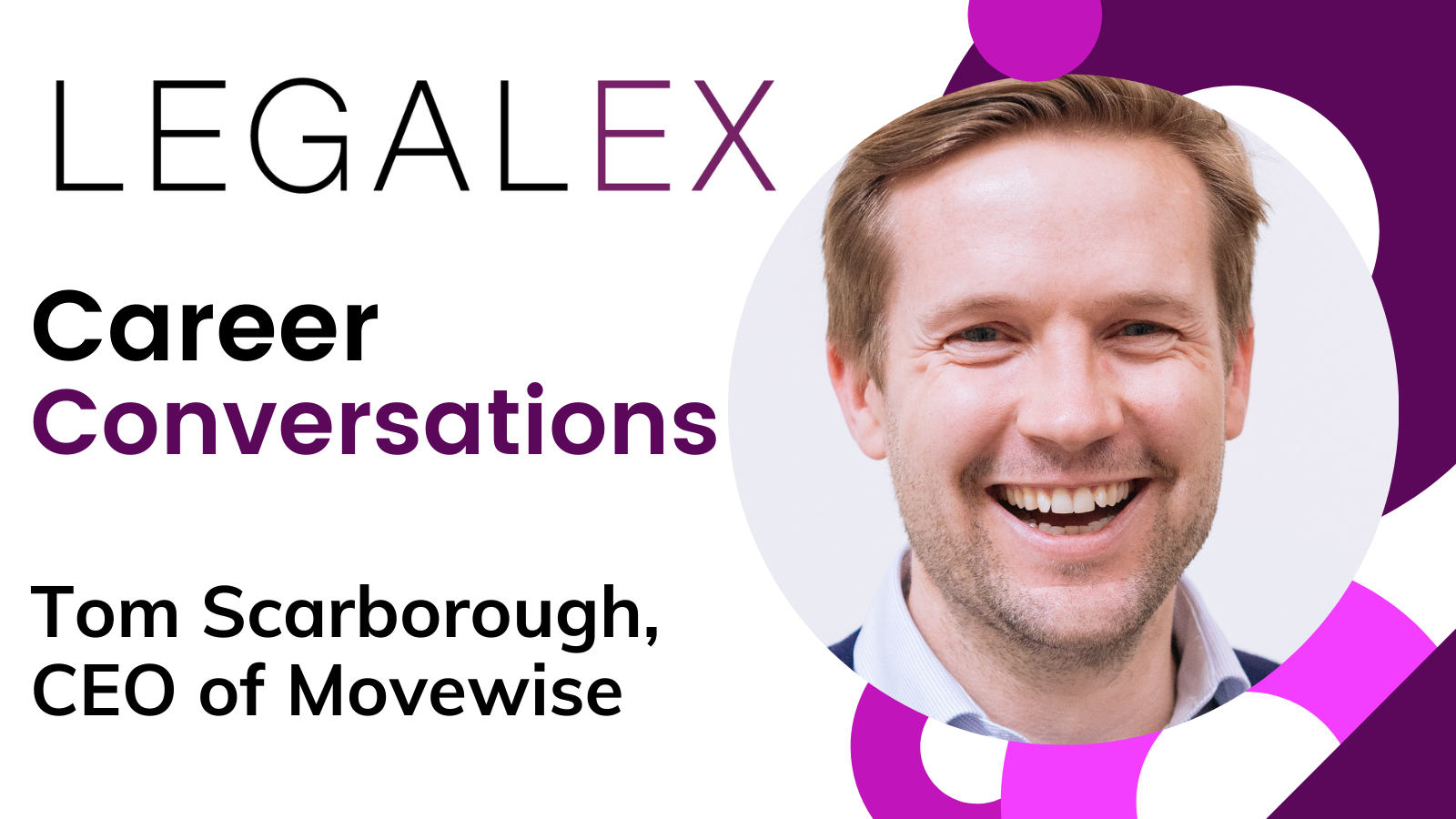 Career Conversations - Tom Scarborough, Movewise
We caught up with Tom Scarborough, the CEO of Movewise in anticipation of his upcoming seminar at our LegalEx Spotlight taking place on the 31st March.
In this seminar, Tom will discuss 'Probate Valuations Simplified', explaining how outsourcing the valuation and sales process can reduce admin while ensuring reliable valuation figures, faster sales and maximum realised value.
So who is Tom? Tom Scarborough is the CEO and Founder of Movewise, who founded the company to deliver a better property sale result and experience to all property sellers after his own challenging experience.
Movewise identifies the best estate agents using technology, negotiates superior terms and fees, manages the sale through them delivering a superior result, resulting in Movewise being the #1 performing pan-UK property seller by sales rate, time to sell and price achieved. Movewise has adapted its proposition specifically for the probate market as they save solicitors significant administration time, whilst allowing them to ensure maximum price realisation and a better customer service experience for their clients.
Prior to founding Movewise Tom worked in the finance sector for 20 years in accounting, banking and investment management at KPMG, Merrill Lynch and IPGL Limited.
---
Can you introduce yourself and your current job role?
Tom Scarborough, CEO of Movewise
How did you find yourself in this position? Did you always aim to pursue a career in law?
I have been in finance my whole career. However I saw an opportunity to build a superior property sales business that solves for the major inefficiencies in property sales, delivering a better result for all customers. By centralising property sales for any vendor with any agent we not only improve the property sale but enormously reduce the administrative challenges of selling one or more properties. We have adapted our model specifically for the probate market as solicitors have a high administrative challenge as well as desire for superior customer service, which we deliver.
What role does your current position play in the functioning of the rest of your business and why is so crucial?
As founder and CEO of the business I am deeply involved with our customers, understanding their needs and guiding our service and product development to address their specific challenges. We want to be the single best way for solicitors to sell property in the UK and are investing a lot of capital into delivering such a solution.
Can you give us some insight into the tasks that make up a regular working day for you, and what legal considerations need to go into these tasks?
Reviewing business performance with our property team. Setting product development with our technology team. Working with corporate clients to deliver their property sales solution.
Can you fill us in on any challenges you've faced in your career and how you overcame these?
Starting a business is a solid challenge as it involves bringing multiple stakeholders together to solve real problems for real people. We are setting everything from the tone of our customer service to technology we develop and the customer we develop it for. The most rewarding part is customer feedback. When customers work with us we get a lot of positive responses and that is the fuel that keeps you delivering a better solution for customers and getting that feedback is the fuel that keeps us going.
If you had to give some advice to your younger self or a mentee looking to enter your career, what would you say?
Keep going.
In your opinion, what are the most exciting developments within your role or the law sector at present?
Creating novel solutions that don't currently exist improving customers experiences and results in property sales. Really adding value.
What do you see the future of the law sector being like? Does this excite or scare you?
We're only really involved on the property side but there should be end to end technological solutions for solicitors engaging in property sales transactions, simplifying their lives and making thighs work brilliantly.
Why do you think legal exhibitions and conferences are important for the development of individuals and the industry?
Great networking for spreading ideas and meeting people. All this business is only beneficial if it helps real people in their day to day lives. The more we meet and learn from and help the better.
---
Make sure you tune into Tom's LegalEx Spotlight session on on the 31st March to find out more.